Voice Crystal - PC Windows Software
---
Rhythm Brainz & Rhythm Brainz PLUS
...are visually intuitive pattern-based music composing software products for use with any PC running Microsoft Windows 95 or 3.1 equipped with a sound card and/or a MIDI interface plus MIDI musical instruments.
Eye & I Productions is pleased to announce worldwide wholesale & OEM distribution of the Rhythm Brainz & Rhythm Brainz PLUS products from MediaTech Innovations (MTI) of San Jose, California. Shipping since January of 1994, Rhythm Brainz & Rhythm Brainz PLUS are The Ultimate Pattern-Based Music Composition Tools; a pair commercial software products allowing any end-user the ability to quickly and easily compose musical patterns & songs directly on their computer. The products are well suited for all levels of end-users; from the novice (musician want-to-be) to experienced musicians and MIDI composers. The Rhythm Brainz products offer a uniquely flexible visual real-time composing grid that requires only the ability to operate a mouse to use and enjoy the products -- no musical knowledge is necessary to use and have fun with the products!
Capable of exporting to Standard MIDI Files, the Rhythm Brainz products are a perfect complement to any sequencer or any other MIDI music composing software as either a drum machine emulator or as a full multi-instrument musical style composing tool. Unlike any other product, the Rhythm Brainz products offer live multi-instrument editing of musical measures as independent patterns in a powerful real-time environment where the user can experience each change as it is made; from simple note additions and deletions to sophisticated editing operations. Songs are created as a structured song chart using an intuitive drag-and-drop technique. Each song chart structure may include: repeating sections, tempo changes, and meter (time signature) changes. Further heightening usability, the products let the user to assign names and descriptions to each pattern and song.
All Windows sound cards, as well as common electronic instrument and General MIDI mappings are directly supported. The products include an integrated Studio Manager allowing the user to select musical instruments and voices by name; freeing the user from having to deal with confusing MIDI syntax and program change commands.
Rhythm Brainz carries a suggested retail list price of * $32.00, and is primarily designed to be used for composing drum & percussion tracks, though it may also be used for simple rhythmic musical compositions.
Rhythm Brainz PLUS carries a suggested retail list price of * $69.95 (Web Special $42.00), and in addition to its use for composing drum & percussion tracks, it offers a multi-instrument composing environment. With its unique live real-time editing and freeform selection of instrument voices & musical scales, Rhythm Brainz PLUS offers a simpler alternative to linear track-based composing with a sequencer for creating songs and musical styles. For less cost than most pre-composed drum track MIDI data file products alone, the user can purchase either product to compose their own musical style patterns & songs, or select from among the hundreds of included style templates covering many different musical styles.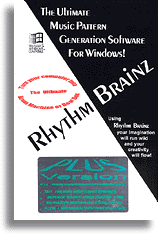 Download Rhythm Brainz PLUS Demo (rbzpdemo.zip 496k)
* At this time the Rhythm Brainz products have been discontinued.
Please visit the Media Tech Innovations website for their newer MIDIBRAINZ products.

---